Tavern "Bracera"

Tavern "Bracera" in Dugi Rat at 15 minutes from Split by car ( link to the map) is situated by the crystal clear see and surrounded with a beautiful pine wood. Capacity is 80 persons inside and 80 persons on the outside terraces by the sea. Cuople of meters from the pebbled beach you can enjoy traditional Dalmatian and other tasty meals of fish and meat.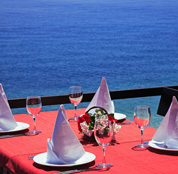 Whether you prefer tastefully decorated inner space or outside on two cascading terraces overlooking the islands and the sea, tavern "Bracera" will enchant you with the variety of offer and carefully prepared meals. From fish and sea food we offer sea bass, gilt-head bream, gilt-pol, red fish, stuffed calamari, grilled scampi,octopus prepared under a baking lid, shellfish, frogfish, risottos, veal and lamb prepared under a baking lid, pasticada, rumpsteaks, beefsteaks, mixed meat, grilled chicken etc. These dishes prepared under baking lid require prior booking.
We also have the popular pizzas from the furnace and various hot and cold side dishes with a wide assortment of wines. Tavern "Bracera" is yearly visited by thousands of people, both local and foreign tourists as well as celebrities from public and social circles.
Our space can receive up to 180 persons and in addition to lunch and dinner, we can organize for you smaller weddings, communion parties and other gourmand festvities.
In a beautifully decorated ambient with clear sea and intact nature, you can enjoy delicious meals and experience the unmatched spirit of Dalmatia. Our kind staff will do their best to fullfil any wishes you might have.
Come and visit us.